Instructors
​Lieutenant Colonel Marvin Brown
Senior Army Instructor
brownmj@acs.k12.sc.us
Command Sergeant Major Norman L. Fisher, Jr.
Army Instructor
fishern@acs.k12.sc.us
Junior Reserves Officers Training Corps (JROTC)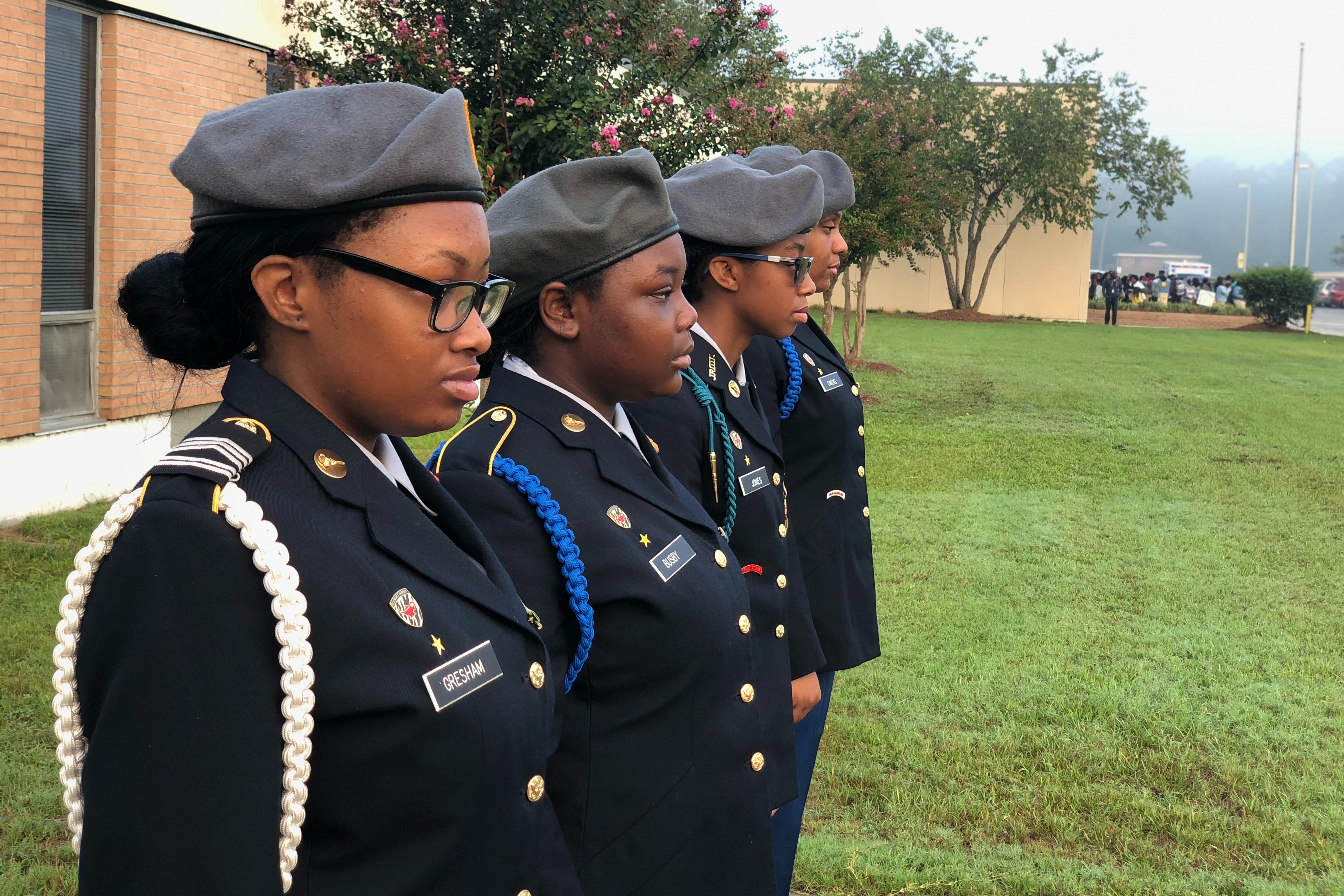 History of the Organization:
The Allendale County Schools was granted by the President of the United States the establishment of an Army Junior Reserve Officers' Training Corps (JROTC) unit to be housed at the Allendale-Fairfax High School in October of 1992. At that time, LTC Everett R. Jenkins was selected to be the Senior Army Instructor (SAI). During the school year of 1993-1994, the program was accredited and awarded as an "Honor Unit of Distinction", a gold star program. Since that time, the program is still accredited and is considered one of the top programs in the nation. The program is currently accredited by ADVANCED/ SACS. The program has a constructive and disciplined learning environment. The graduation rate of students who participated in all four years of the program is 97.6%.
Mission:
"To motivate Young People to be Better Citizens"
Goals:
Provide the means for Cadets to:
Develop citizenship, character, and leadership.

Communicate effectively

Improve Physical fitness

Live drug-free

Strengthen positive self-motivation/esteem

Learn the historical perspective of military service

Work as team members

Graduate and pursue meaningful careers
JROTC Leadership and Academic Bowl (JLAB) - The goals of the JLAB are as follows: Improve SAT/ACT scores, Increase interest in college admissions, Improve leadership skills, Demonstrate academic strength of the JROTC program, Boost esprit de corps. AFHS JROTC fielded two Academic Bowl teams and two Leadership Bowl teams. We are extremely proud to announce that all four teams advanced to the 2nd round of this extremely competitive competition
JLAB Participants: Chante Gresham, Dhwani Rupapara, Tydarius Maner, Dante Busby, Trinity Mickell, Zoe Dublin, Kaseem Johnson, Lokeya Robinson, Richard Corley, Fantasia Jamison, Dennes Garcia-Cruz, Sha'Mya Shipman
JROTC Essay Contest - Cadet Corporal Zoe Dublin's essay was selected out of 24 entries to compete with essays from cadets at over 100 schools in a 10-state region. The essay's theme was: "The Challenges of Online and In-Person Learning in a Pandemic Environment"
Scottish Rite of Freemasons Award - Cadet Sergeant Tristan Lann
Association of the United States Army (AUSA) Leadership - Cadet Corporal Lokeya Robinson, Cadet Corporal Kaseem Johnson
Army Recruiting Command Award - Cadet MSG Chante Gresham
Military Officers Association of America Medal - Cadet Captain Rodriuanna Williams
Outstanding Volunteer Award - Cadet Staff Sergeant Sha'Mya Shipman, Cadet Private First Class Ramona McGee
Highest ASVAB Score - Cadet Captain Nyleia Doe
Cadet Challenge/Physical Fitness Awards - Cadet Sergeant Tristen Lann, Cadet Major Symone Jones
Academic Achievement Awards - Cadet Corporal Dhwani Rupapara, Cadet Corporal Ny'Shiya Sabb, Cadet Private First Class Tydarius Maner, Cadet Major Symone Jones
Academic Excellence Awards - Cadet Corporal Trinity Mickell, Cadet Captain Nyleia Doe, Cadet Lieutenant Colonel Ziyan Owens
Army Instructor Leadership Award - Cadet Corporal Dhwani Rupapara
Senior Army Instructor Leadership Award - Cadet Command Sergeant Major Hikieem Carlton
Superior Cadet Awards - Cadet Corporal Zoe Dublin, Cadet Sergeant First Class Fantasia Jamison, Cadet Master Sergeant Chante Gresham, Cadet Lieutenant Colonel Ziyan Owens
Distinguished Cadet Award - Cadet Major Symone Jones